"A POCKET OF PARADISE" A HISTORY OF BEACH ROAD By JOE DUNN
Joe Dunn, a former resident of Beach Road for many years, has published a book on the history of Beach Road entitled A POCKET OF PARADISE. It is available for sale through Prospect Park Books or directly from Joe Dunn.The 110 page, 4-color book, encompasses the time frame from Mission days to the present and include over 70 images in black and white and color to accompany the text. It's a must have for past, present and future residents of the Road as well as extended family members. For those who rent their property, it's an ideal remembrance to bring your tenants back. For the holiday shopping season, A POCKET OF PARADISE is the perfect gift for beach lovers. All proceeds from the sale of the $30 edition will go to the Surfing Heritage Foundation, a favorite charity of Mr. Dunn.
If you wish to order books, you may contact Mr. Dunn at 949-496-7899, or e-mail, joe@dunnpropertygroup.com .
Do you have a human interest story involving our community?
You may suggest or submit a story for our consideration.
Featured stories and photos will be presented in this section of our website.
Sincerely,
Donal S. Russell, General Manager
949-496-6576 (Phone)
949-487-9224 (Fax)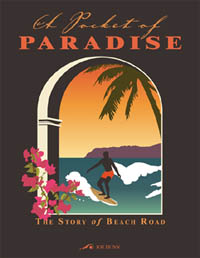 BEACH ROAD TIDE CALENDAR
August 2021 – July 2022
Provided by Steve Dunn
Cost $10
If interested in purchasing a calendar,
please contact the District Office.